/

Concept
SolarSoundSystem proposes to party with renewable energies. We offer the public to share an energetic and participatory experience. Our systems consist of turntables for DJs, and a powerful sound system thanks to solar and bike powered speakers that can cover up to 500 people. We also propose systems for events and festivals with more than 500 people with a solar generator.
The modules are powered by two renewable energy in presence:
– The Sun in most cases and consistently.
– The Public pedaling on bikes equipped with generators.
With more than 500 events SolarSoundSystem is already used as a model. The existence of several of these systems in more than 10 countries and their numerous cultural and didactic interventions is the proof that this project is successful and have a long-term viability.
Many artists and labels support and interact with the project : Ninja Tunes, Cadenza records, MentalGroove, Sayag Jazz Machine, Martina Topley Bird
CREATE EXCHANGE ON ENERGY TOPICS
ECOLOGICAL & SUSTAINABLE
Powered solely by the sun or your energy, we are respectful towards the environment. Our systems have a very low carbon footprint. Totally Off-grid, they don't need any source of electricity.
The energy that you save is the energy that you don't use !
INNOVATIVE & CREATIVE
We are mixing low-tech with high-tech technologies for the best of the two worlds.
Thanks to our designs, participants can enjoy music with 100% sustainable energy generated equipment.
More than 500 events worldwide, and still counting !
Powerful & Hi-Fi
A lot of back-testing and optimization has been made in order to provide the best audio quality and power as possible, this, solely from sun power.
SolarSoundSystem aims also to bridge the gap between renewable energies with high-end and powerful sound systems.
/

Media
Photos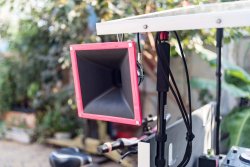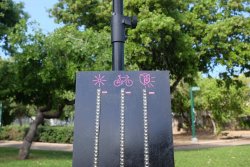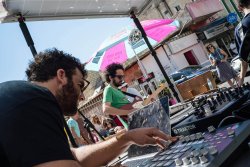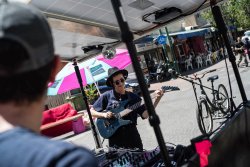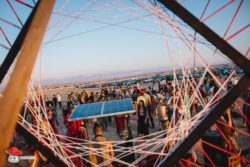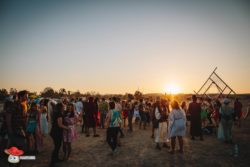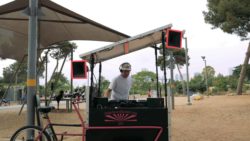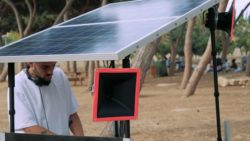 Audio
/

Testimonials

Dear Rubens,
The Solar Sound System was the perfect choice for our Sunset Cocktail in the 7th EcoMotion Main Event in the EcoMotion Week 2019.
It was a real pleasure working with you! Your groovy music and good vibes created the best energy. We are looking forward to working with you again.
Best regards, EcoMotion Team
Eden Avriel
Israel Innovation Institute - EcoMotion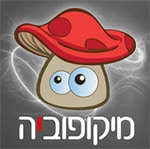 After several very successful collaborations with SolarSoundSystem, you can say with certainty that this is the best sound and energy experience that the production can get! Thank you very much for Rubens and all the staff for all the help and giving.
Gilad Klein
Founder - Mycophobia
Rubens Shalom, I would like to thank you for your professional and dedicated work with us in the last year and the recent events in particular, and with your help we have succeeded in producing amazing events, giving us a quiet mind to deal with other things without worrying about the amplification and electricity system. We were happy to discover a partner who is not afraid to express his professional opinion, all for the sake of a successful event, as we have spoken in the past
Omri Suliman
Operations Manager - Green Course

TLV.SolarSoundSystem came to an educational green day in junior high schools in Ashkelon and added great interest to the campaign that the students organized on reducing air pollution, Rubens explained in an interesting way about the system, answered students' answers and played fun music.
Amy Lipman
Project Manager - Green Step